Canada's car safety ratings are based on testing by the National Highway Traffic Safety Administration (NHTSA) and the Insurance Institute for Highway Safety (IIHS) in the United States and compliance with Canada's Motor Vehicle Safety Regulations. NHTSA and IIHS each have their own safety ranking criteria, which are updated each year.
The car safety rating reflects how well you and your passengers will be protected if in a car accident and the likelihood of avoiding an accident altogether. Check both the NHTSA and IIHS Safety Ratings when buying a vehicle and look for Canada's National Safety Mark on the vehicle. All vehicles manufactured for sale in Canada or imported into Canada must meet the Motor Vehicle Safety Regulations.
NHTSA's 5-Star Safety Rating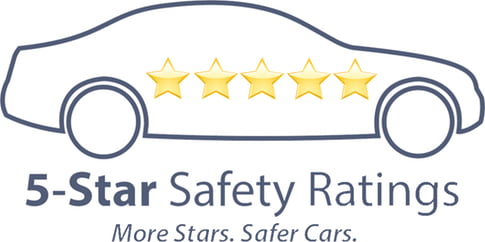 In 1978, NHTSA began testing using crash test dummies and providing safety ratings for front impact protection. The 5 Star Safety Rating System started in 1993 to help inform consumers buying new vehicles. A 5 Star Rating is the top safety rating.
In the early 2000's, more advanced testing was developed to test resistance to rollovers and other types of crashes. Starting in 2006, the 5 Star Rating Information was required to be on the window label of all new vehicles.
In 2013, rearview video systems were added to the list of recommended technologies and became standard in all new vehicles in 2018. Automatic emergency braking systems were added to the list of recommended technologies in 2016, to reduce the speed of impact of rear end collisions.
Rollover resistance is another factor measured in vehicle safety testing. Rollover resistance is an assessment of how top-heavy the vehicle is and its susceptibility to tipping.
IIHS Safety Ratings
The IIHS provides safety ratings on a scale of "Good" to "Poor" for vehicle occupant protection and "Superior" to "Basic" for crash avoidance. Testing includes frontal crash tests, side barrier tests, side pole tests, rollover tests, and roof strength tests.
The IIHS provides a list of Top Safety Picks. To qualify, the vehicle must meet criteria such as an advanced or superior rating in the front crash prevention test, a good rating in roof strength and head restraint tests, and an acceptable or good rating in the headlight tests.
Vehicles that have the top IIHS safety ratings are grouped according to vehicle size, for example, small cars, midsize cars, SUVs and minivans.
Motor Vehicle Safety Regulations (MVSR) and the National Safety Mark
Canadian vehicle manufacturers must meet the Motor Vehicle Safety Regulations in Canada. The National Safety Mark shows the manufacturer has met Canada's motor vehicle safety standards, and the label has a unique number in the centre for the manufacturer or importer. You can find more information on the Motor Vehicle Safety Regulations on the Transport Canada website.
Will Your Car Safety Rating Impact Your Case?
Car safety ratings are meant to help you make an informed decision when buying a new vehicle. Higher safety ratings mean the less likely you and your passengers will suffer severe injuries or get into an accident.
Driving safely is of upmost important, no matter what the vehicle's safety rating. Other considerations, besides the safety rating of your vehicle, include whether you were wearing a seatbelt and following the rules of the road.
These factors typically impact your case more than the car safety rating. As an example, if you were not wearing a seatbelt, you may be found contributory negligent and face other charges. This means that by not wearing a seatbelt, you contributed to the severity of your injuries. Make safety the priority when you are driving or travelling in a motor vehicle.
If you have been in a motor vehicle accident, contact an Accident Injury Lawyer at James H. Brown & Associates as soon as possible after the accident. We will help you navigate the process so that you can focus on your recovery.